Aren't these posters incredible…and inspiring? They were drawn by K-12 students who illustrated their love of natural resources in previous NACD poster contests for the chance to have their art displayed as part of a national conservation outreach initiative and win monetary prizes.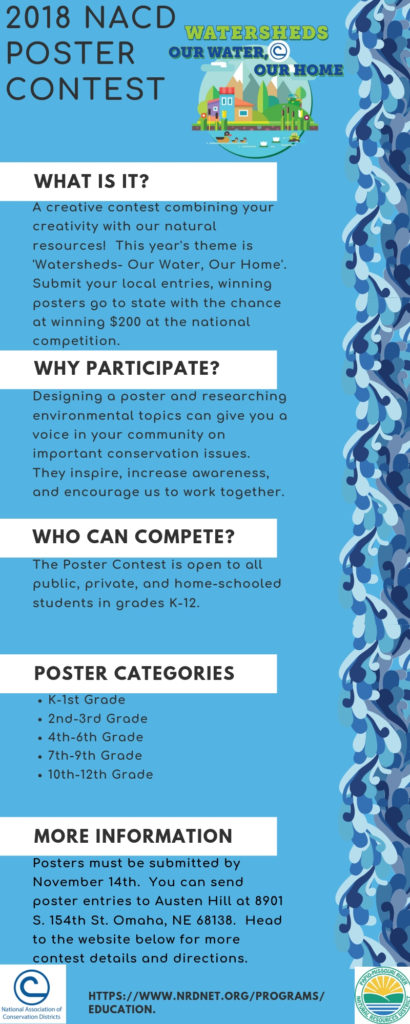 2018 NACD Poster Contest
Get your colored pencils and crayons ready! We are now accepting entries for the 2018 NACD Poster Contest. This year's theme is "Watersheds – Our Water, Our Home."
The Nebraska Association of Resources Districts (NARD) along with Nebraska's Natural Resources Districts provide K-12 students with an opportunity to express their thoughts about water, soil, and related natural resource issues.
Interested? Of course you are. For details at-a-glance regarding the poster contest, the blue infographic provides a quick run-down. For more in-depth information, such as contest rules, filling out the entry form (which you definitely want to do), etc., please do the following:
How to Enter the NACD Post Contest
 – Fill out the entry form on the NARD website. 
 – Attach the completed entry form to the back of your poster (tape, glue, staples, etc).
 – Mail your poster to:
Austen Hill, Education Programs Supervisor
Papio NRD
8901 S. 154th Street
Omaha, NE 68138
Better hurry, the contest entry deadline is November 14th.