Danish Alps State Recreation Area opened for public use July 8,2015. The NRD constructed the site for flood control and the NE Game and Parks Commission will manage the park as a state recreation area.
The NRD Board of Directors named the former Pigeon/Jones Creek Watershed flood control reservoir near Hubbard NE  after Dakota County resident Vince Kramper. Kramper was a member of the NE Environmental Trust Board and former member of the NE Natural Resources Commission and the Papio-Missouri River NRD Board. Kramper Reservoir is 226 acres surrounded by over 500 acres of park land. The Board also voted to name the park Danish Alps Recreation Area, recognizing that the surrounding hilly terrain is reminiscent of the Danish homeland and the immigrants who settled in this area..
"Vince Kramper was very instrumental in helping the NRD secure needed funding and led the effort to inform local residents of the project's multiple benefits and to enlist their support," said NRD Manager, John Winkler. "We greatly appreciate his effort on this and many NRD conservation projects over the years," he said.
Groundbreaking
Ground was broken for Kramper Reservoir on June 7, 2012. Construction of the reservoir and downstream levee work was part of a comprehensive watershed plan to provide flood control, recreation, erosion control, sediment control and grade stabilization benefits in the 20,316 acre Pigeon/Jones Creek Watershed in Dakota County. Recreational opportunities at this 750 acre park with a 226 acre lake includes "no wake" boating, fishing, hiking and biking trails, equestrian trails, mountain biking trails, and campgrounds.
At the groundbreaking, General Manager, John Winkler told attendees "This will be one of the finest facilities in Nebraska and not only will protect life and property from flooding, but will greatly enhance the quality of life for area residents for generations to come"
The NE Environmental Trust joined with the NRD, NE Natural Resources Commission, NE Game and Parks Commission, NE Dept. of Environmental Quality and Dakota County to help fund this project. (L to R) NRD General Manager, John Winkler; NRD Board Chair, Rick Kolowski; NE Environmental Trust Executive Director, Mark Brohman; and Vince Kramper, Dakota County resident, NE Environmental Trust Board Member and former long-time member of the NRD Board.
Flood Control comes first
Flood and soil sediment control benefits are now realized on thousands of acres of irrigated cropland in the Missouri River bottomlands, where the combined Pigeon and Jones Creeks empty into the Pigeon Creek Levee System. Located entirely in Dakota County, the Pigeon/Jones Creek flows out of the bluffs near Hubbard and then across the floodplain into the Missouri River. Controlling floodwaters and sedimentation will protect lives and farm ground from the watersheds steep and erosive bluffs.
CLICK HERE to view a Kramper Lake Fact Sheet/Site Map.
Project Partners:
Papio-Missouri River Natural Resources District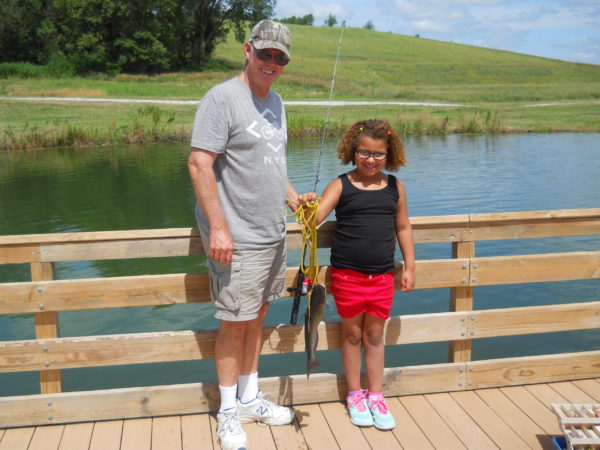 U.S.D.A. Natural Resources Conservation Service
Nebraska Natural Resources Commission
Nebraska Environmental Trust
Nebraska Game and Parks Commission
Nebraska Department of Environmental Quality
Dakota County