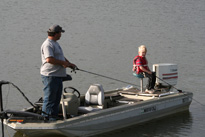 Prairie View Rec Area is located at 180th Street, one-half mile south of NE Highway 36. The recreation area encompasses 84 acres, including a 42 acre lake. Land for the park was donated to the NRD by the Horgan Development Company as a part of the Public/Private Partnership with the NRD for flood control at Newport Landing and public recreation at Prairie View Lake. The NRD contributed funding toward the flood control features at Newport Landing, formerly known as Papillion Creek Watershed Dam Site 6.
The recreation area is open year-round 6:00 a.m. to 10:00 p.m.
Rules and Regulations for all NRD Recreation Areas
Available Recreation and Facilities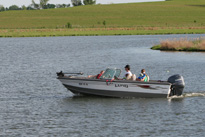 Boat ramp
Parking
Restrooms
Picnic Shelter
2.5 K Limestone Trail and three Pedestrian Bridges
Fish Stocking
Lake stocked with Bass, Bluegill, Crappie and Catfish by the Nebraska Game and Parks Commission
Catch & Release
In an effort to protect the fishery, the Papio-Missouri River Natural Resources District encourages the practice of catch and release at Prairie View Rec Area. The practice of Catch and Release is quite simple – Put Them Back Alive. The following rules apply.
Be sure to wet hands before handling or measuring fish.
Release immediately.
If the line is deeply hooked in the throat or stomach, cut the line, as the hook will work itself out.
Other rules of Prairie View Rec Area
No-wake boating
Pack In – Pack Out (No trash receptacles available in the area)