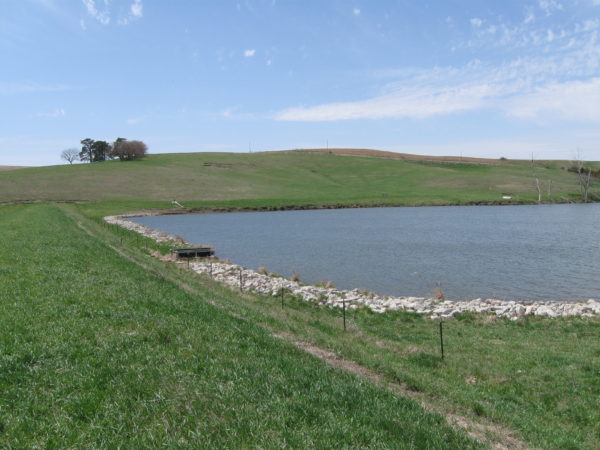 Watersheds are areas of land that drain rainfall or snowmelt run off to a specific location, generally a creek or lake. Listed below are some projects utilizing a watershed conservation approach to help reduce pollution, provide erosion control, improve water quality and provide flood prevention.
The NRD has built and maintains over 100 dams in several watersheds. These include Buffalo and Turtle Creek Watersheds in Sarpy County, Papillion Creek Watershed in Douglas County, Silver Creek Watershed in Washington County, Tekamah-Mud Watershed in Burt County and Pigeon- Jones Watershed in Dakota County. The projects stabilize eroding gullies or streams, provide sediment retention for water quality and in some cases provide flood control for towns and cities including Tekamah, Hubbard, the Omaha metro area and upstream farmland. Many of these dams were built through the federal Public Law 566 assistance program administered by USDA Natural Resources Conservation Service. The NRD operates and maintains the dams.
Pigeon Jones Project
The Pigeon/Jones Project is a comprehensive watershed effort that will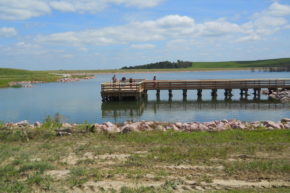 provide flood control, erosion and sediment control and grade stabilization benefits in the 20,316 acre Pigeon/Jones Creek Watershed in Dakota County. The benefits will be realized on thousands of acres of irrigated cropland in the Missouri River bottomlands where the combined Pigeon and Jones Creek empty into the Pigeon Creek Levee System. Eighteen sediment and erosion control structures are planned for this watershed. Five have been completed.
In addition, the construction of Pigeon/Jones Flood Control Site #15 created a 228 surface acre lake with 595 acres of additional park land. Recreational opportunities include "no wake" boating, fishing, 3.8 miles of hiking and biking trails, 10 miles of equestrian trails and separate RV campgrounds, equestrian campgrounds and tent campgrounds. The steep terrain is also be uniquely suited to mountain biking on trails provided for that use.
Partnering with the NRD on this project are the NE Resources Development Fund, NE Dept of Environmental Quality, NE Game and Parks Commission, NE Environmental Trust, USDA Natural Resources Conservation Service and Dakota County.
New York Creek
This watershed, located in northern Washington County, experienced severe soil erosion in the upland areas and sediment damages downstream. Increased cost sharing funds and personnel were targeted within this watershed over a 5 year period. More than 50% of the watershed is adequately protected compared to only 30% in 1987 when the targeting effort began.
Silver Creek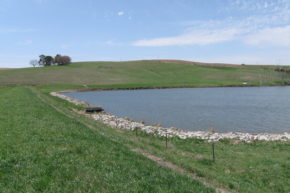 Silver Creek is a 25 square mile watershed located on the Missouri River Bluffs northwest of Tekamah in eastern Burt County. Because of its strongly sloping terrain, soil erosion, grade stabilization and sedimentation are problems. Sediment from Sheet, rill and gully erosion is deposited in the drainage ditches of the Burt-Washington Drainage District where it must be removed at considerable expense to the District. The Silver Creek Special Watershed Plan calls for the construction of terraces, waterways and erosion control dams to lessen soil erosion. Since the initiation of this project in July 1994, twenty-two of the twenty-six watershed dams have been constructed.
Hanson's Lake
This special watershed project was initiated to improve water quality and reduce the rate of sediment deposition in Hanson's Lake in southern Sarpy County. Land treatment, including terraces, waterways and sediment basins will reduce erosion rates in the watershed and address the problems in Hanson's Lake. The key component in this plan is a large erosion control/grade stabilization dam completed in 1999.
For more information contact:
Terry Schumacher, Land and Water Programs Coordinator
tschumacher@papionrd.org   402-426-2415