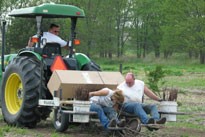 Your NRD offers cost share funding as well as technical assistance to landowners who plant trees for homestead windbreaks, field windbreaks, and wildlife habitat improvement on farms and acreages. A complete planting service is also available including planting your seedling trees. We cooperate with the Natural Resources Conservation Service for planting designs.
The NRD Tree Program begins in fall each year.  That is the time to plan and order bare root tree/shrub seedlings. The seedlings vary in size from 8 to 20 inches tall.  Cost-share funds are available for plantings that meet NRD conservation guidelines.
Hand-plant orders are usually available for pick-up the third weekend in April.  The NRD also offers a mechanical tree planting service for 75 cents per tree.  A minimum order of 100 tree/shrub seedlings is required to use the planting service.
Find out more about Nebraska's NRDs and tree planting at www.nrdtrees.org.
For more information or to order, contact your local Field Service Represenative:
For Sarpy or Douglas county, email John Zaugg or call: 402-426-2625 ext. 105
For Burt or Washington county, email Justin Novak or call: 402-426-4782
For Dakota or Thurston county, email Jon Krause or call: 402-404-7158