Latest News
The 2021 Water Quality Report is now available. Click here.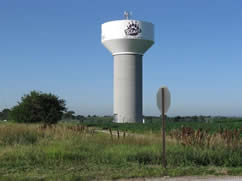 History
In 2002, the District was petitioned by rural residents to investigate alternatives on providing a good, clean source of water for a 48-square mile area located south of Blair. Volunteers canvassed the area to inform residents and gauge interest. A supplemental feasibility study was completed in October 2003 indicating that a portion of the area was economically viable, which was located generally between Hwy. 133 and Hwy. 75. Final design of the distribution network followed, and in November, 2004, the award to construct the project went to BRB Contractors (Topeka, KS) in the amount of $2,535,255.26. Completed in October of 2005, the Washington County Rural Water #2 system provides potable water supply to over 400 properties in southeast Washington County. In 2017, the Lakeland Water Company joined the system and provides water to an additional 550 households. The 38-mile distribution network purchases its water supply from the City of Blair.
Washington County Rural Water #2  System – Current Water Rates (effective 10/1/13)*
Base Monthly Charge
$25.00*
First 10,000 gals
$4.95 /
per 1,000 gals.*
Next 10,000 gals
$3.35 /
per 1,000 gals.*
Next 30,000 gals
$2.35 /
per 1,000 gals.*
All Over 50,000 gals
$2.10 /
per 1,000 gals.*
* Plus 5 1/2% NE sales tax on commercial accounts only.
Customer Disconnection Sample Notice
Current Hookup Fees
The hookup fee (benefit unit) for each service desired shall be as stated below, or the District's actual cost of providing service to the applicant plus a $1,500 capital facilities charge, whichever is greater.
Service Type
1-Unit
Meter Size
5/8 X 3/4″
Hookup Fee
$4,500
2-Unit
1″
$6,900
Business Hours Contact Info
M-F  8:00 a.m. – 4:30 p.m.
Call: 402-444-6222
Email: ruralwater@papionrd.org
Emergency Service
Weekends, evenings, and holidays:
Call: 402-669-4826 or 402-505-0000
For more information contact:
Justin Novak, Project Manager
jnovak@papionrd.org
402-315-1706 or 402-616-0969