The Papio-Missouri River NRD Board of Directors has approved its Fiscal year 2017 Long Range Implementation Plan (LRIP).
"We are projecting to lower our expenditures by nearly half (45%) over the next five years," said NRD General Manager, John Winkler. We plan to do this while simultaneously attempting to fund over 50 projects and programs which provide public safety like flood control and water quality," he said.
Approval of this LRIP follows the Board of Directors September approval of a budget that will once again require no increase in the NRD property tax levy.
Each year, the NRD updates this planning document that summarizes planned District activities and includes projections of financial, personnel, and land rights needs of the District for at least the next five years.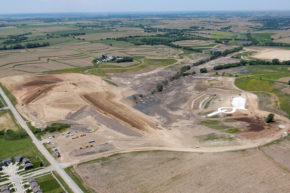 Major programs and projects addressed in the plan include:
Completion of flood control Dam Site 15A near 168th and Fort Streets
Upgrading of Missouri River levees to protect Offutt Air Force Base and critical infrastructure south of Bellevue
Constant maintenance and operation of Papillion Creek, Missouri River and Platte River levees.
Recreational trails construction
Cost sharing with landowners on a variety of soil and water conservation measures
Groundwater management
Click Here – Long Range Implementation Plan