Contest celebrated the grand opening of Flanagan Lake
with the Omaha community
The Papio-Missouri River Natural Resources District today announced the winners of the city-wide "Dam Fun Contest" it launched in celebration of the grand opening of Flanagan Lake in June.
More than 200 Flanagan Lake-goers entered the photo contest for their chance to win recreation-themed prizes donated by sponsors. Members of the public determined the winners by voting for their favorite photo, casting more than 11,000 total votes. The top-voted photos in the following categories (kayak, Trek bike, fishing, gift card) are the contest grand prize winners: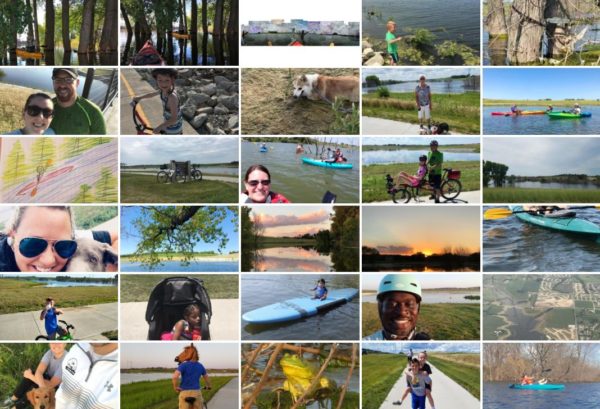 "Dam Fun Contest" Winners
Perception Hook 105 Angler Kayak – Brian Harmon
2018 Trek FX 2 Hybrid Bicycle – Rob Morrison
Two Scheels Outfitters Pfleuger President Tournament Combo, Scheels 50 Super Cooler, Fins & Fur Outdoor Adventure Guide gift certificate for ½ day guided fishing trip for two with guide Steve Satra – Nick Hummel
$100 SCHEELS gift certificates – Adriana Guzman, Kari Marcley, Heather Steffen, Beth Pietzmeier, and Adam Denney
Sponsors for the prizes included FYRA Engineering, HDR, Inc., Olsson Associates, McArdle Grading Company, and Cabelas.
"Most people don't know that Flanagan Lake is a flood control reservoir designed to protect the lives and property of Omaha citizens from floods," said John Winkler, general manager of the Papio-Missouri River Natural Resources District. "To celebrate the public safety and recreational opportunities Flanagan Lake provides, we launched the "Dam Fun Contest" to engage with the community in a fun and educational way." 
Rob Morrison, winner of the Trek bike, says he has big plans in store for his new wheels. "I can't wait to repeat my 'half-century' ride – over 50 miles to Flanagan Lake and back," says Morrison. "Thank you to the Papio NRD and sponsors involved in this contest, as well as all the people that voted for me. I would never have a bike like this without all of you!"
Flanagan Lake, near 168th and Fort Streets, is Omaha's latest flood control reservoir in the Papillion Creek Watershed. It provides flood protection for Omaha citizens and 730 acres of recreational benefits, such as a 220-acre lake, five-mile hiking/biking trail, and park and green space.