The past few years, northeast Nebraska, as well as other parts of the Midwest, have experienced some extreme weather conditions.  From flooding, to blistering heat, lack of rainfall, and strong winds have all taken a toll on the land, livestock, and wildlife that make this area of Nebraska unique.  Nature provides us with a tool that we can use to help protect against extreme weather forces and that tool is trees!
Trees provide several benefits for landowners and producers.  Trees provide protection for crops and livestock.  They protect soil from wind erosion, and well-designed shelterbelts can distribute drifting snow more evenly across the fields.  Trees can provide shelter in the winter and shade in the summer which can lessen the stress on livestock.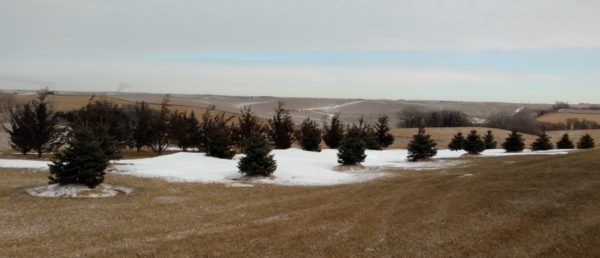 Trees can also provide benefit for humans.  Trees can reduce home heating and cooling costs by up to 30% by planting a good shelterbelt.  They can minimize snow drifts in roads, driveways, and around the house or farm.  Trees can even be used to help with noise reduction.
Trees also provide numerous benefits for wildlife.  Shelterbelts can provide habitat for wildlife, and they can also provide stream bank stabilization for streams and rivers.  Steam bank stabilization helps protect aquatic habitat, and trees can also help remove contaminants that would otherwise get into our water.
The Papio-Missouri River Natural Resources District (NRD) would like to encourage landowners to start planning now.  Orders are currently being taken at all NRD and USDA Natural Resources Conservation Service (NRCS) offices for planting in the spring.  Landowners can order from a list of some forty-one species of trees and shrubs.  The price for 25 seedlings is $22.
For more information about tree orders, planting or the NRD cost-share program, contact the Natural Resources Conservation Service (NRCS) and NRD office located at 1505 Broadway in Dakota City or by phone at (402) 494-4949.  A listing of all conservation trees and shrubs are also available online at www.nrdtrees.org