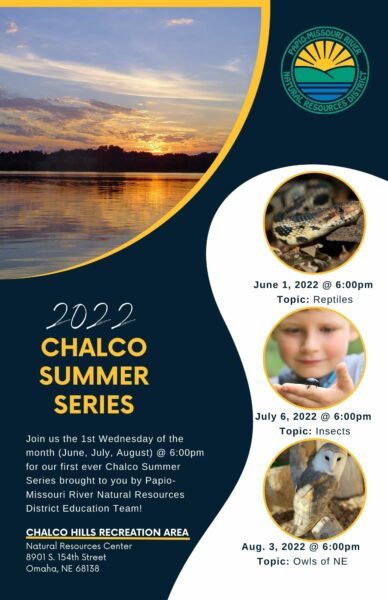 Presenting…our first ever Chalco Summer Series!
Live critters. Cool crafts. Free fun for the whole family.
Join us the 1st Wednesday of each month this summer (June, July, August) for an interactive learning experience about Nebraska reptiles, insects, and owls. You'll also get to meet some of our animal ambassadors and do some fun crafts.
Schedule of Events
June 1 at 6:00 p.m.
Topic: Reptiles
July 6 at 6 p.m.
Topic: Insects
August 3 at 6 p.m.
Owls of Nebraska
Each series will take place at the Natural Resources Center at Chalco Hills Recreation Area in Omaha (8901 S. 154th Street).
Please register for the free event(s) at this link or email kkelley@papionrd.org.
Registration is not required but helpful to the Papio NRD education team to get a general headcount.