Omaha Tribe Holds Cedar Ceremony to Bless Flood Mitigation Reservoir Named in Honor of Chief Big Elk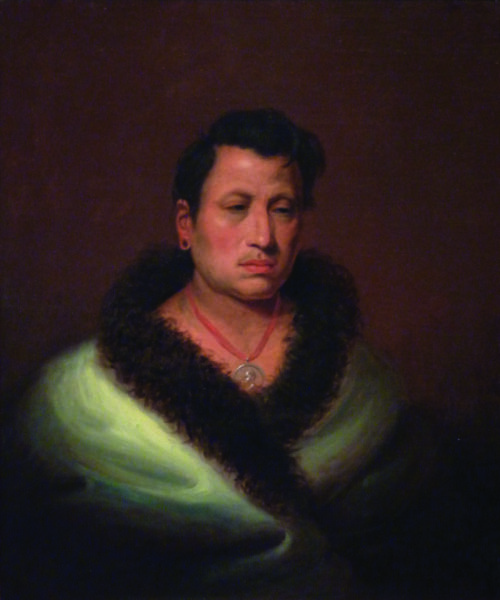 The Papio-Missouri River Natural Resources District (Papio NRD), the City of Papillion, Sarpy County, and many community partners, today celebrated the grand opening of Big Elk Lake and Portal Recreation Area, Papillion's two new flood mitigation reservoirs that provide flood protection for Papillion and Sarpy County citizens, as well as recreational benefits and green space.
The Papio NRD Board of Directors voted last June to name the Papillion reservoir, located near 108th & Cornhusker Road. Big Elk Lake in honor of Chief Big Elk, a principal leader of the Omaha Tribe. Portal Recreation Area is located nearby at 114th and Cornhusker Road.
To kick off the ceremony, Dr. Rudi Mitchell, the great-great-great grandson of Chief Big Elk of the Omaha Tribe, held a cedar ceremony (burning cedar on charcoal) to bless the lake and surrounding recreation area. Mitchell also read aloud the famous speech Chief Big Elk gave upon returning from a treaty negotiation in Washington D.C., where he warned his people of the impending flood of settlers that threatened Omaha homelands and lifeways.
Mitchell said he is very pleased with the recognition of his ancestor.
"Until today, there was no tribute to Chief Big Elk in Omaha, said Mitchell. "Big Elk was admired for leading one of the most peaceful tribes through many challenges. Through his speeches, trading, and peace treaties, Big Elk had a gift for peacefully bringing settlers and the Omaha tribe together," said Mitchell. "This says a lot about the kind of leader he was and I'm grateful he will be remembered in an area of beauty and nature."
Glenna Mitchell Slater, also a descendant of Big Elk and one of the few Omaha Tribe certified fluent language speakers and teachers, is touched to see the lake entrance monument bear Chief Big Elk's name interpreted in the Omaha language: Oⁿpoⁿ Toⁿga.
"I want to thank the Papio NRD board for accepting my request to place our Chief Big Elk's Omaha Tribal Indian name to be translated under his name on the entrance sign," said Mitchell Slater.
While the primary purpose of the new reservoirs is to help protect the lives and property of citizens from floods, they also feature recreational amenities, such as walking/cycling trails, kayak/canoe launches, picnic shelters, park land, and fishery enhancements.
"Chief Big Elk is one of the most notable figures in Sarpy County history. He was fiercely protective of his people, but also known as a peaceful leader who valued alliances," said John Winkler, general manager of the Papio NRD. "Naming this flood mitigation reservoir in honor of him – a structure designed to protect the people of Sarpy County made possible through partnerships and surrounded by acres of beauty and peaceful natural resources – seems like a perfect way to commemorate all that Chief Big Elk stood for. It has been an absolute honor working with the Omaha Tribe on this special project," said Winkler.
Papillion Mayor David Black said the city is excited for the completion of Big Elk Lake and Portal Recreation Area and thanks the Papio NRD for its continued commitment to providing vital flood protection to the area.
"In addition to the flood protection, the recreational opportunities these areas will provide are invaluable to our community," said Black. "The City of Papillion values our long-term partnership with the NRD, and we are proud to bring these new areas into our park system," said Black.
Big Elk Lake and Portal Recreation Area are now open to the public.