Rural intersections can be dangerous when tall crops obstruct the view of approaching traffic. The Papio NRD is proud to be a partner in the Pollinator Safety Corners program that offers landowners incentives to plant new habitat at rural intersections, such as a diverse mix of short grasses and wildflowers, to help provide an adequate sight distance at intersections.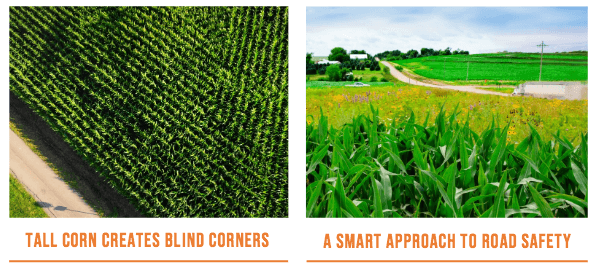 Through the 319 Grant Program, a new incentives program for farmstead improvements and agricultural enhancements, landowners within the Papillion Creek Watershed who participate in the Pollinator Safety Corners program receive an annual $350 per acre for each year of the 5-year contract.
Kyle Madsen, watershed coordinator for the Papio NRD says he sees the Pollinators Safety Corners program to be a win-win for farmers and the community by increasing safety through conservation efforts.
Anyone interested in learning more about the program can contact Madsen at kmadsen@papionrd.org or 402-350-3695.
Please see flyers below for program details and guidelines.
Safety Corners Program Guidelines