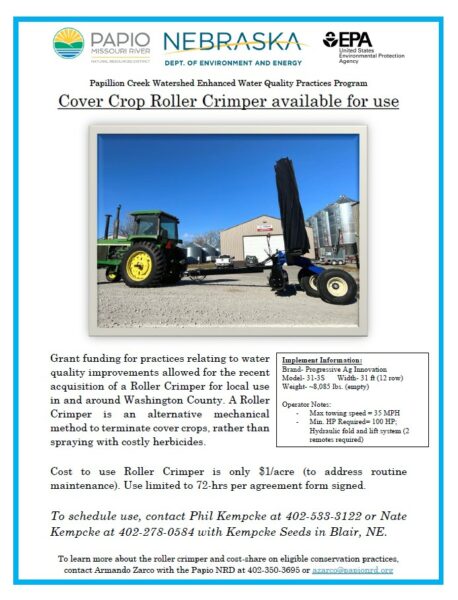 A roller crimper, an alternative mechanical method to terminate cover crops without herbicides, is now available for farmers in and around Washington County. By crimping cover crops and rolling them over like a blanket on a field, it can improve weed suppression and reduce moisture evaporation from the soil.
Grant funding from the EPA, Nebraska Department of Environment and Energy (NDEE) and the Papio NRD for practices relating to water quality improvements enabled the recent acquisition of the roller crimper.
It's available to local farmers for use at a low cost of $1/acre (to address routine maintenance). Farmers who may be hesitant about this practice are encouraged to try it on a few acres initially to make their own judgement and consider it a potential future investment.
To learn more about the roller crimper and cost-share on eligible conservation practices, contact Armando Zarco with the Papio NRD at 402-350-3695 or azarco@papionrd.org.
To schedule the roller crimper, contact Phil Kempcke at 402-533-3122 or Nate Kempcke at 402-278-0584 with Kempcke Seeds in Blair.